Profi Manual tape dispenser 161-21402
The Profi Manual tape dispenser 161-21402 for packaging tape up to 50mm width.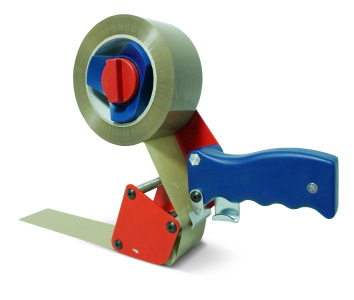 Product describtion
This professional manual device in new wrapping is the well tested 161-21402 (alternative to tesa PREMIUM 56402). We succeeded in negotiating and concluding a world-wide exclusive contract with the manufacturer of this device. Moreover, we have now the world-wide exclusive distributing rights for this article since 01.02.2013. Due to the fact that the product is intended to be marketed by numerous customers, we maintain a neutral packaging.
This professional manual tape dispenser is used for the sealing of cartons and packages. With its roller brake it is especially suitable for an easy tape dispensing. Two contact pressures allow an especially simple and smooth tape application. The tape cut-off is implemented by activating the release inside the handle, thus protecting the user from injuries. Processed may be tapes of 76 mm (3 inch) core diameter, with up to 50 mm in width and a length of 200 m. The maximum of the roll diameter is 170 mm.
The commended sales price net 132,77 EUR.
Technical data
Tape type
one side adhesive tapes
Length
220 mm
Width
65 mm
Height
210 mm
Weight
520 g.
Maximum tape diameter
170 mm
Maximum core diameter
3 inch
Maximum roll diameter
50 mm
customs tariff number
8479 8997
country of origin
TH (Thailand)
piece/ carton
1 piece
piece/ dispatch units
8 piece